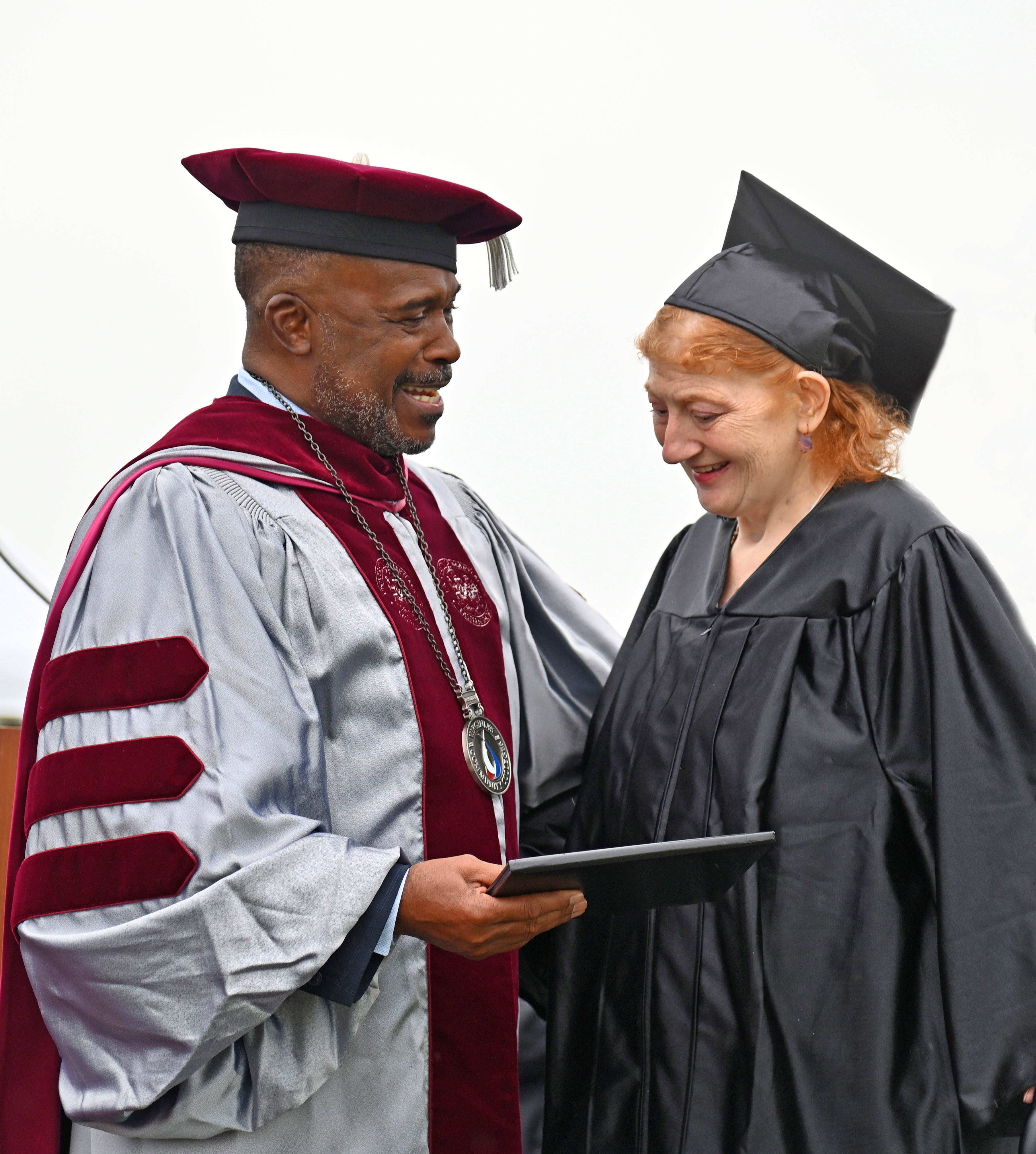 Catrina's goal of walking across the stage as an SVCC graduate was achieved during the commencement ceremony held in May on the John. H. Daniel Campus in Keysville as she received a certificate from Dr. Quentin R. Johnson, SVCC President.
Adult learners at Southside Virginia Community College often tell stories about overcoming personal challenges. The determination they demonstrate in reaching their goals is and can be inspiring. One amazing recent graduate, Catrina Roberts, displayed outstanding courage as she pursued her desire to hold a postsecondary credential in her hands.

Catrina's life included many medical challenges. She endured 40 surgeries, including some related to kidney issues, some following an accident, and two heart valve replacements. Although these issues sometimes slowed her progress, they did not stop her. Her family supported her through these challenges; especially her brother, Robert Jackson, whom Catrina looked up to. He was always there for her and encouraged her after each surgery.

Catrina suffered a stroke after her second heart valve replacement surgery and set walking across the stage at graduation as her goal for recovery. She accomplished this at SVCC's ceremony on May 13, 2023. She stood up from her wheelchair and stepped forward to receive the Early Childhood Career Studies Certificate for which she had worked so hard.

It was a proud moment for her and her family, and on that stage, Catrina was able to savor her success. Sadly, just a few weeks later, she passed away.

Ryan Roberts, Catrina's husband says: "Catrina was a people person. She was always tenacious and would always find a way to push through every challenge she faced."

He explains that Catrina had a long-standing interest in early childhood education. She worked at Kenston Forest as a substitute teacher, as a bus driver, and in the cafeteria.

Her daughter, Elena, is a rising 10th grader at Nottoway High School. She notes that Catrina's involvement as a Girl Scouts leader and 4-H volunteer gave them a special bond.

The Roberts family credits Catrina's mother, Mary Gordon, for serving as a role model. Elena says her mother learned a lot from her grandmother, who worked in a school setting and in home health care and demonstrated a huge capacity for empathy. Ryan recalls his mother-in-law's willingness to take early retirement to become Catrina's caregiver, enabling him to remain employed at his job and keep the family's health insurance intact.

The Early Childhood Career Studies Certificate Catrina pursued is designed to prepare students for jobs in daycare or pre-school environments. During her studies, she learned about early childhood development and practical strategies for encouraging prosocial behavior. She studied conflict resolution and problem solving, and took courses that reviewed positive health, hygiene, nutrition, and safety issues. After finishing her coursework, Catrina worked at Pickett Park Daycare. This gave her an opportunity for hands-on experience implementing creative age-appropriate activities.

In honor of her mother's legacy, Elena plans to follow in her footsteps by continuing her own education after high-school graduation. "Education was a lifelong experience for my mom. She believed that education was a pathway to a better life."

Ryan explains that although Catrina had many medical challenges which required her to take most of her classes online, she found that she always had access to help through her teachers.

As Catrina's story demonstrates, determination can help a person overcome a multitude of obstacles. If you are a working adult and have been thinking about a new career, you can honor her memory by taking steps in your desired direction.