If you are driving around Southside Virginia, look for this billboard! Paul Elliott is a 2017 graduate of the Diesel Technician program.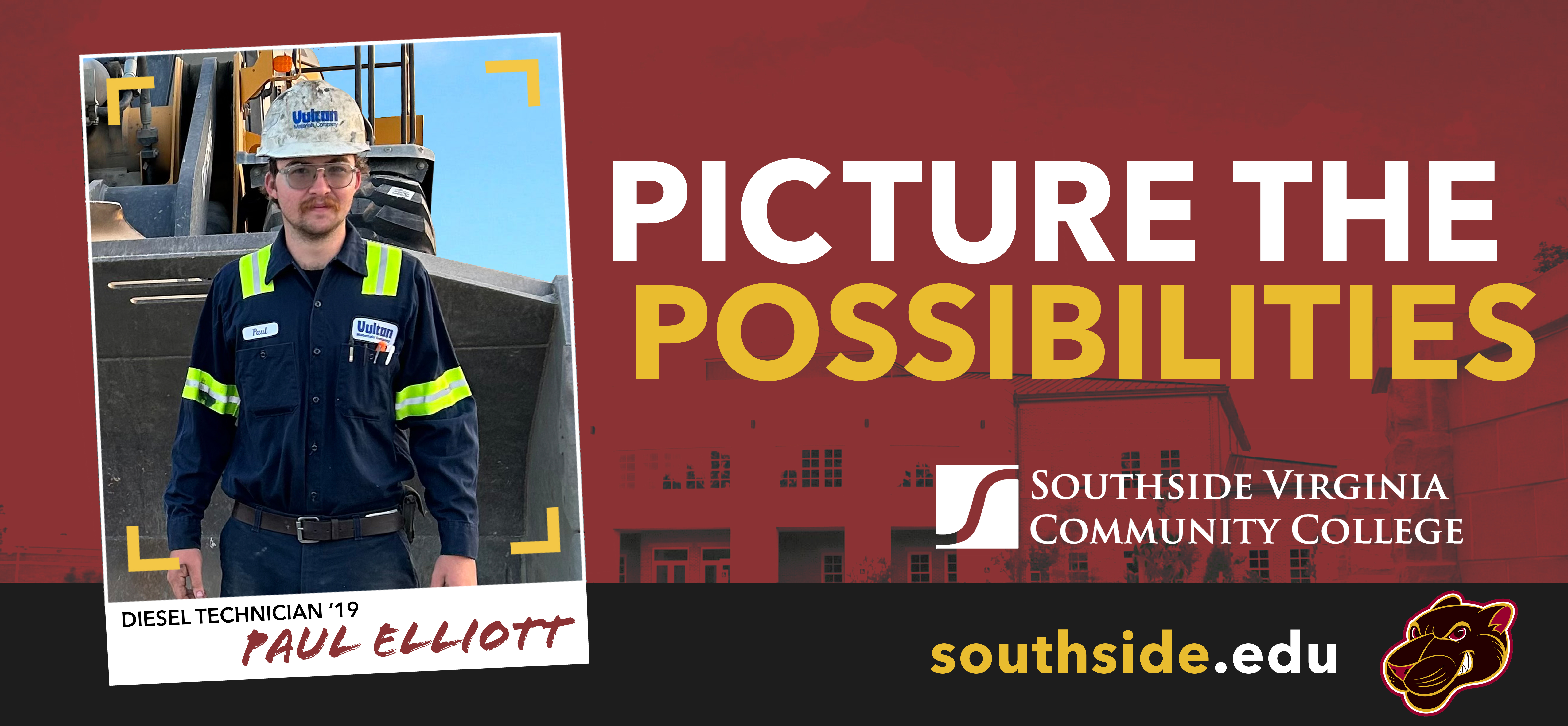 Overview
The Diesel Technician program is designed to prepare students for employment as an entry-level diesel technician. A student completing this program will learn how to: (1) perform a preventive maintenance inspection and master the methods, tools, and procedures necessary to perform the inspection; (2) utilize diagnostic test equipment to identify problems; (3) identify and replace or repair failed components; and (4) utilize basic computer skills and have knowledge of repair order processing and shop operation practices. This curriculum is designed to teach students the technical fundamentals of diesel systems such as maintenance, diagnostic test equipment, inspections, shop practices, record keeping, electrical systems, fuel systems, service, and safety. Students will also receive instruction in hydraulics and air brakes.
Earn the Following Credentials:
S/P2 Heavy Duty/Diesel Technology Safety awarded by S/P2
ASE Entry-Level Medium/Heavy Truck Diesel Engines
ASE Entry-Level Medium/Heavy Truck Electrical/Electronic Systems
ASE Entry-Level Medium/Heavy Truck Suspension & Steering
ASE Entry-Level Medium/Heavy Truck Brakes
ASE Entry-Level Medium/Heavy Truck Inspection Maintenance & Minor Repair
Diesel Technician Enrollment Packet
Upcoming Program Start Dates:
July 10, 2023
October 9, 2023
January 8, 2024
April 1, 2024
July 1, 2024
September 30, 2024
Location:
SVCC Occupational/Technical Center Pickett Park 
1041 W. 10th Street, Blackstone, VA 23824
Housing available on site for $14 – $16 per day - call Nottoway LRA at 434-298-0366 Monday - Friday between 2 & 6 PM
Tuition:
In-State: $5,366  |   Out of State: $16,098
*The FastForward Credential Grant will help pay tuition costs for qualifying Virginians. Additional scholarships may also be available.
Program Length:
22 Weeks