Transferring to a four-year institution to complete your bachelor's degree should be a pleasant experience. However, smooth transitions require planning. We invite you to visit the student development center to learn more about the process.
Southside Virginia Community College and the VCCS have special agreements with several four-year colleges and universities.  Learn more here http://www.vccs.edu/students/transfers/
The Virginia Wizard Transfer Tool enables students to research options for transferring from a Virginia Community College to a four-year institution in Virginia. Start your research here https://www.vawizard.org/wizard/guaranteed-admission-agreements
Hear It From Former Students
Jessica Harding Carrion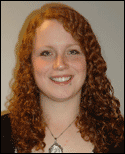 After graduating from Randolph-Henry High School in 2005, I decided that I wanted to start my college career at Southside Virginia Community College. I liked the idea that it was close to home and the cost to attend wasn't very expensive. After attending classes for a few semesters, I decided to take some time off to figure out what I really wanted to do. After a year and a half, I decided to come back to SVCC to study Human Services.
My very first Human Services class was with Dorothea Sizemore and I loved her enthusiasm for the subject. Throughout my career at SVCC, I took as many classes as I could with her and even did my 300 hour internship under her supervision. Mrs. Sizemore was the first person to ask me "So where are you going to go from here?"
After learning about the Old Dominion University Distance Learning program at SVCC, I decided that I wanted to apply. After receiving my ODU acceptance letter, I started attending classes two weeks after my graduation from SVCC.  I entered into the Human Services program, with a minor in Psychology.
Since the SVCC campus has an ODU site, I'm able to take my classes at SVCC. My classroom has a television in which I'm able to see my instructor in Norfolk, VA.
Although the instructor can't see me, microphones are available so that students are able to participate in class discussions. At first it took me a little while to get used to this format, but now it has become a part of my normal classroom routine. While attending school full-time, I'm also employed full-time at the Hampton Inn in Farmville, VA. I'm really lucky that my job has supported my educational career and is willing to work with my school schedule.
Once I graduate from ODU, I plan to attend Graduate school to obtain my Master's Degree.
Steps to a Successful Transfer:
Make sure you are in the system as a transfer student. This will alert the college that you intend to continue your education after leaving SVCC.
It is important to select your transfer school
Following the advice of your advisor, Student Development and your transfer institution will help make transferring smoother.
Be familiar with the general education requirements at the four-year schools.
For more information on Transferring, visit our Online Catalog.
Student Services Help
Call Us:
(434) 736-2022
Email Us:
student.services@southside.edu
Office Hours:
Monday - Friday
8:00 AM - 4:30 PM