If you are driving around Southside Virginia, look for this billboard! Anna Robertson is a 2023 graduate of the Truck Driver Training program.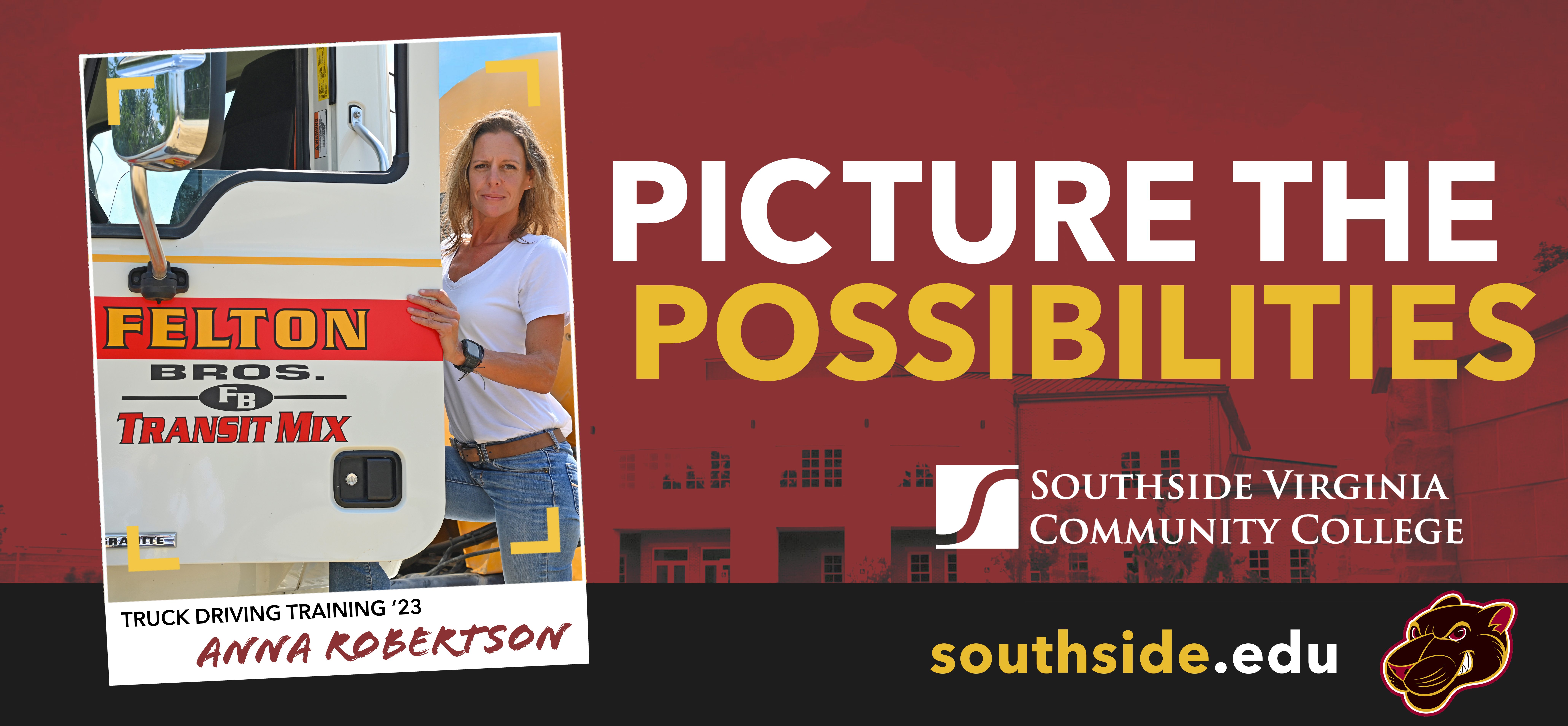 Overview
Your Road to Success...Let us Lead the Way
Are you looking for a career that will allow you to travel and see new places and meet new people; where the income, benefits and job security are excellent? Are you looking for a career where you are practically your own boss while on the road? The Truck Driver Training School at SVCC could be the beginning to your achievement of these career goals.
Main focal points during the course will include preventive maintenance, highway safety and handling hazardous materials. A good attitude is the key to successfully understanding the elements of these very important topics in the trucking industry. Bring a good attitude and you will probably leave with a better one.
The training school length is 6 weeks with locations at Fort Pickett in Blackstone, Virginia and South Boston, Virginia and Emporia, VA.  Students receive approximately 240 hours of training  Classes are Monday through Thursday from 7 AM to 5 PM. The class day is structured very close to a normal workday. Pre-trip inspections, keeping logbooks updated, and constant backing up and twisting and turning to maneuver the trucks will become habit.
A prospective student must provide the following one week prior to the start of class:
Be 18 years of age
Have a valid Virginia Driver's license
Provide the school with a copy of his/her driving record
Pass a D.O.T Physical exam
Pass a drug test and permit to being randomly tested for drugs and alcohol during the program
Must have CDL-A learner's permit
Trucking companies are interested only in drivers with good driving records. DUI's, reckless driving, and too many speeding tickets are unacceptable. SVCC will not require one, but the motor carrier will run a criminal background check on all prospective employees. Conviction of theft or use of drugs will probably prevent your being hired by a trucking company. We will try to answer any questions you might have concerning these matters.
Truck Driver Training Enrollment Packet
Upcoming Program Start Dates: 
All sessions are 6 weeks, Monday through Thursday, 7 AM to 5 PM. 
Pickett Park
July 17- August 24, 2023
September 11- October 19, 2023 
South Boston 
 May 15- June 22, 2023  
July 24- August 31, 2023 
September 18- October 26, 2023 
November 13- December 21, 2023  
Emporia
May 8- June 15, 2023 
November 6- December 14, 2023  
Tuition 
In-State: $1,500  |  Out-of-State: $4,500

*The FastForward Credential Grant will help pay tuition costs for qualifying Virginians. Additional scholarships may also be available.
Length
6 Weeks