When William Kidd enrolled in the dual enrollment Information Technology program offered by Southside Virginia Community College, he did not know that coronavirus and COVID-19 were poised to present unprecedented challenges to his education path. Kidd refused to accept disruption, however. He kept up his hard work, embraced new solutions, and achieved spectacular success by completing his coursework and earning a CompTIA A+ certification.
CompTIA, the Computing Technology Industry Association, is a top trade association for the information technology industry, and its certifications are coveted by IT professionals around the world. Passing its rigorous certification exams confers significant prestige.
Regarding Kidd's accomplishment, SVCC's Dean of Career and Occupational Technology, Dr. Chad Patton, explained, "The CompTIA A+ test William passed is extremely challenging. It has around a 30% pass rate for professionals who are currently working in the industry. Think about that, only one in three folks can pass this test."
Kidd not only passed the test, he passed it as a dually enrolled high-school student completing his studies in a nontraditional, virus-impacted world where high school and college classrooms were closed. When instruction moved to online settings and his home internet connection was too slow to keep up, Kidd pursued other options. "I still had online work to do for the high school and college. My brother had college work also, so we would drive to the library in South Hill almost every weekday to do our work."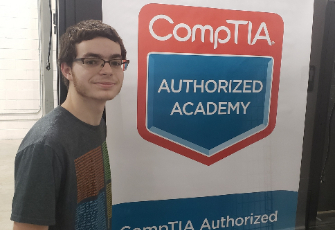 Crystal Pendergrass, CITE program coordinator and one of Kidd's instructors, appreciated his commitment. She said, "William was consistent in his online attendance, even though he had to drive to his library or school parking lot to participate in our Zoom sessions."
Another of Kidd's instructors, Kelley LaPrade, appreciated the example he set for others. "William was a great mentor and very helpful to his peers. He was not only a team leader, he was a team player. He was especially good at collaborating with his peers during discussions."
The process of earning his CompTIA certification presented additional barriers. Kidd had to navigate strict testing protocols that had been instituted for the COVID-19 shutdown. Although the library's wireless service had been adequate for routine work, it failed to pass muster for the test. He eventually found a suitable connection outside his high school, but taking the remotely proctored test from inside a car in a public place presented unique challenges. After reviewing the criteria, he was concerned. "If any dog barked, a person walked behind my camera, a person said something nearby even if unintelligible, or someone made a loud noise nearby, then my test would be failed instantly," he explained.
"So, I parked as far back in the parking lot as possible, but close to the school to get a stable wireless network signal and began preparation." Kidd blocked his car windows with pillows and cardboard and set up a laptop computer and camera. Then, he submitted pictures of his test area to the proctor and was relieved when it was approved. Despite the odds and the challenges, Kidd passed the test. "This credential validates my skills!" he exclaimed.
SVCC's Networking and Computer Support program is offered at the college's Center for Information Technology Excellence (CITE) Lab located at the Lake Country Advanced Knowledge Center in South Hill. The CITE Lab, which opened in August 2017, was established through collaborative partnerships among SVCC, Microsoft, the Town of South Hill, the Tobacco Region Revitalization Commission, and other state and local entities. It provides a simulated IT work environment that enables students to learn by doing and prepares them for
credential completion and high-demand IT careers.
CITE Lab programs include offerings for traditional college students, unemployed and underemployed adults, and upskilling IT workers as well as the 18-credit hour program for dually enrolled students Kidd completed. Dual enrollment options offer students the opportunity to earn college-level credentials while simultaneously fulfilling high school graduation requirements. Kidd stands as a testament to what dedicated students working with committed instructors can achieve. "My instructors at Southside helped a ton," he said. "They filled me in on what I needed to know."
Dean Patton commented, "One of the best things about working for SVCC is to witness the lifechanging events accomplished by our students. What motivates me is watching students like William, who have the dedication and desire to learn, achieve so much success. The CITE program continues to provide these opportunities not only to high school students but to traditional and transitioning students as well. So many of our success stories begin with a bus driver, a waitress, a cashier, people who step out in faith, take a night class or two, excel, earn a credential and land a job with Microsoft, Perspecta, or another company with a great reputation. Our CITE programs change lives, and it's exciting to be a part of that."

Kidd's achievements cap an impressive academic journey, and they serve as a platform from which he will venture into the adult world. He is considering his options including the Marine Corps, continuing his college education and employment as an IT technician.
"Once a person makes the initial effort, they see that they can succeed," Patton affirmed. "SVCC is the place to make transformational stories a reality."
For more information on SVCC's CITE program, call Crystal Pendergrass at 434-955-2252.