Southside Virginia Community College Receives Community Grants totaling $9K
Urban Grid recognized Southside Virginia Community College with a $9,000 grant to fund its Career Coaching Program and a scholarship for the entry-level solar worker training program.
 
The grants are part of "Urban Grid Gives", an ongoing commitment to communities where Urban Grid solar projects are being proposed, developed and constructed.  

"Southside Virginia Community College is committed to building dreams, transforming lives, sustaining communities, and providing instruction for anyone who wants the opportunity to build upon their educational foundation,'' said Dr. Quentin R. Johnson, SVCC President. "By funding programs key to job creation in the clean energy economy, Urban Grid is helping to ensure the relevance of the southside workforce with real-world skills."

"We believe that all solar development is local and have designed our Urban Grid Gives initiative to partner with organizations making a lasting impact in the communities they serve. Like Southside Virginia Community College, our solar energy projects will bring a lifetime of benefit to the community with the generation of clean, affordable energy," said Rob Propes, Urban Grid Development Manager.  "Contributing to the economic development of rural counties in Virginia is central to our belief that the transition to clean energy can benefit everyone in the community, beyond those directly involved in our projects, and long after our projects are established."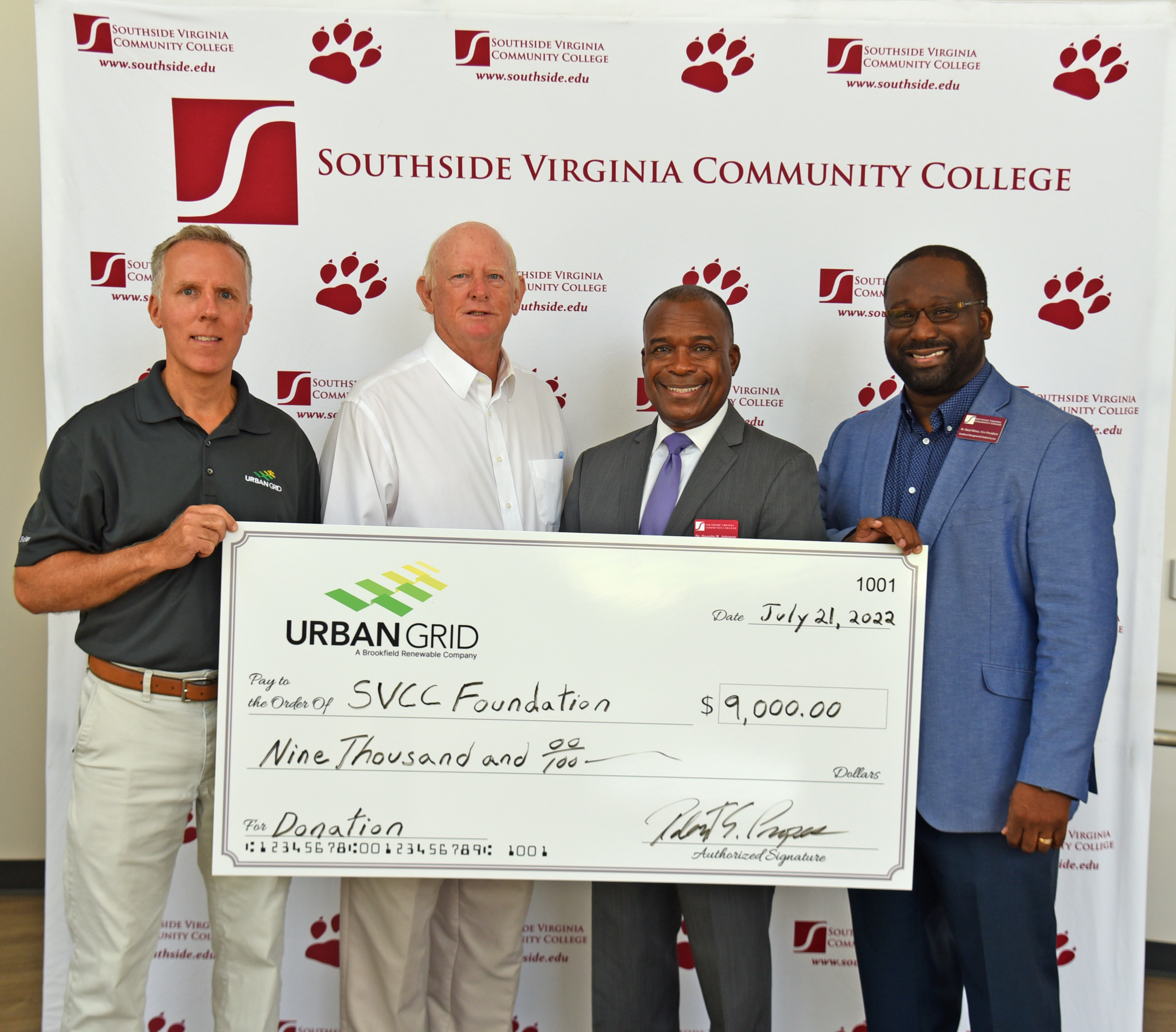 A check presentation was held on the Christanna Campus in Alberta as Dr. Quentin R. Johnson, SVCC President and Dr. Daryl Minus, Vice President of Enrollment Management and Student Success accepted the donation from Rob Propes, Urban Grid Development Manager and Dave Whittington, Urban Grid Consultant.
About Urban Grid:
Urban Grid is a utility scale renewable energy project developer, with over a decade of expertise in taking solar and energy storage projects through the full development process, from site acquisition through interconnection, permitting, offtake execution and project exit. Headquartered in Richmond, Virginia–with teams located strategically throughout the United States, Urban Grid has provided utilities and corporate clients with reliable clean energy. We are actively developing a growing portfolio of approximately 13,000 megawatts of solar PV and 7,000 megawatts of co-located and stand-alone energy storage, throughout 12 states in support of America's transition to clean, sustainable power. To learn more, please visit www.UrbanGridSolar.com. Urban Grid is a Brookfield Renewable company. Brookfield Renewable operates one of the world's largest publicly traded, pure-play renewable power platforms.