SVCC Falls to 2-2 on Season
The Southside Virginia Community College men's basketball team fell behind early and could never recover in dropping a 105-75 decision to the visiting Virginia Union University JV team on Sunday afternoon.
Both of SVCC's losses this semester has come against VUU.
VUU (4-1) jumped out to a 7-0 lead early before Lanthony Joyner hit two free throws to get the local team on the scoreboard. A bucket by Tae Holmes and back-to-back baskets by Nile Atwater cut the VUU lead to 16-8.
A trey by Zykeem Fields as the 30-second clock sounded cut the VUU lead to 25-17 at the 9:03 mark of the first half but Carter Strickland hit three straight treys two minutes later as the visitors opened up a 36-19 lead at the 7:20 mark.
Strickland added two more treys in the half as VUU took a commanding 58-31 lead to the halftime break.
SVCC got a 3-point play from Fields and he added another bucket thirty seconds later to trim the visitors lead to 72-46 at the 14:47 mark.
The Panthers did not quit and Atwater hit three-free throws after being fouled behind the 3-point line and buried a trey twenty seconds later to cut the VUU lead to 89-66 but that was as close as the local team would get down the stretch.
Strickland led VUU with 25 points while Camren Bullock scored 12 and Jaylen McCoy added 11.
Atwater led SVCC with 21 points while Traivon Callis scored 13 and Joshua Jiggetts added 11.
SVCC…….31  44 – 75
VUL………58  47 – 105
SVCC – Petty 2, Holmes 6, Fields 10, Atwater 21, Josh Jiggetts 11, Callis 13, Gant 2, Trent 4, Joyner 4.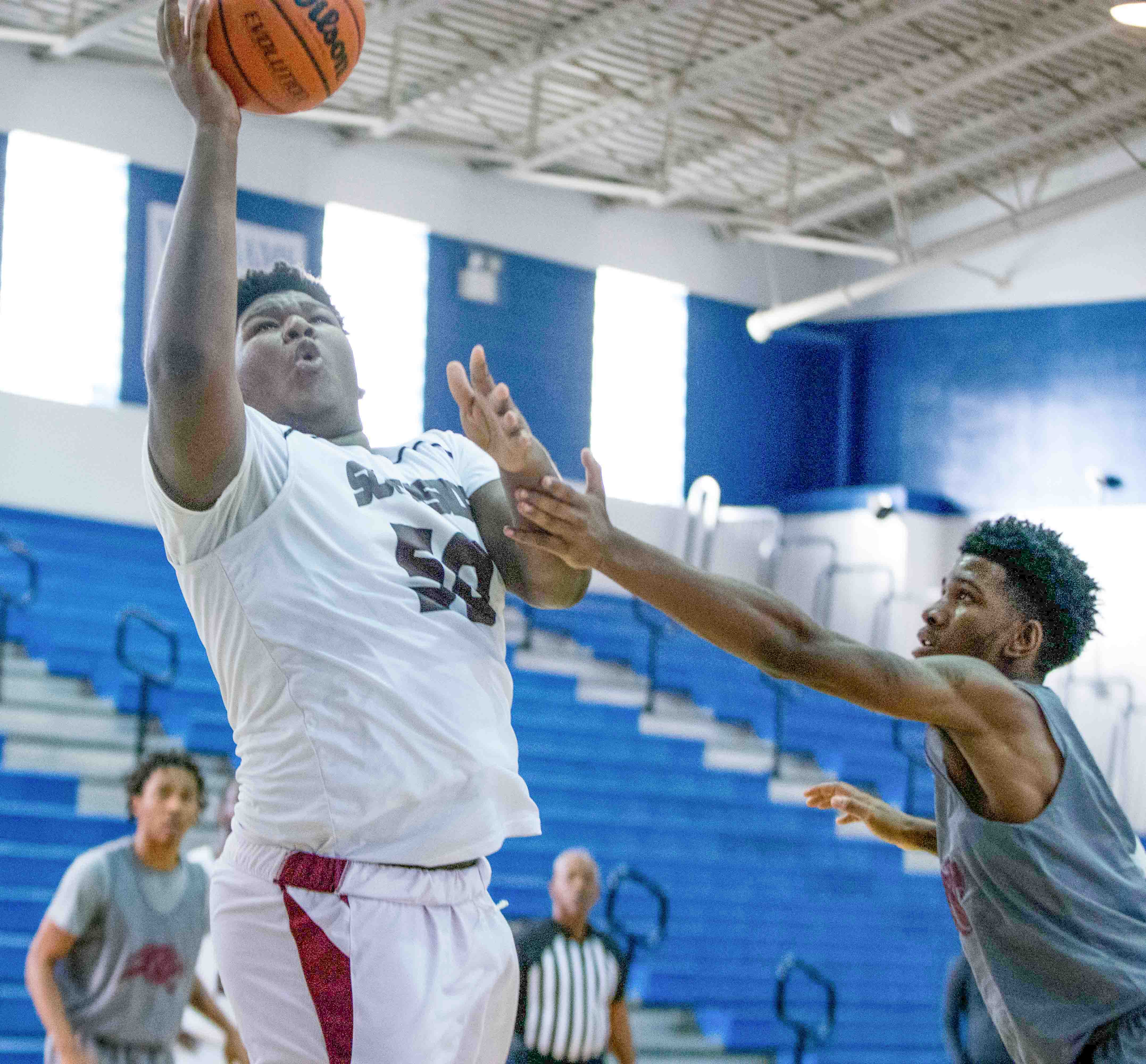 Traivon Callis scored on this drive to the hoop in action from the Virginia Union University JV team's 105-75 win over SVCC in Lawrenceville on Sunday afternoon. (SVCC photo).