SVCC Rolls to 90-63 Win
The Southside Virginia Community College men's basketball team broke out to a double-digit lead eight minutes in and never looked back in picking up a 90-63 victory over Bryant & Stratton MIT on Sunday afternoon.
The victory improved the Panthers to 4-3 on the season.
SVCC trailed early but a rebound and putback by Marquise Petty gave the Panthers a 11-10 lead at the 15:52 mark of the first half.
Two straight buckets by Jermonta James extended the SVCC lead to 17-10 lead at the 14:57 mark.
A 3-point play by Tae Holmes gave the Panthers a 30-17 at the 9:23 mark of the first half.
A bucket by Petty gave SVCC a 42-22 lead at the 6:43 mark but Bryant & Stratton fought back to close the margin to 47-38 at the halftime break.
The Panthers picked back up where they left off in the second half as treys by James and Joseph Jiggetts ran the lead to 64-47 at the 11:26 mark.
Two treys by Holmes extended the lead to 73-58 at the 6:50 mark and the local team cruised down the stretch to the lopsided win.
Holmes and James led SVCC with 17 points apiece while Petty scored 15 and David Gant added 10.
SVCC will return home on Saturday to face the College of Southern Maryland at 2 p.m. at Park View HS.
SVCC……….47  43 - 90
BS…………..38  25 - 63
SVCC – Holmes 17, Petty 15, Atwater 8, James 17, Gant 10, Joshua Jiggetts 8, Joseph Jiggetts 5, Joyner 6, Callis 2, Trent 3.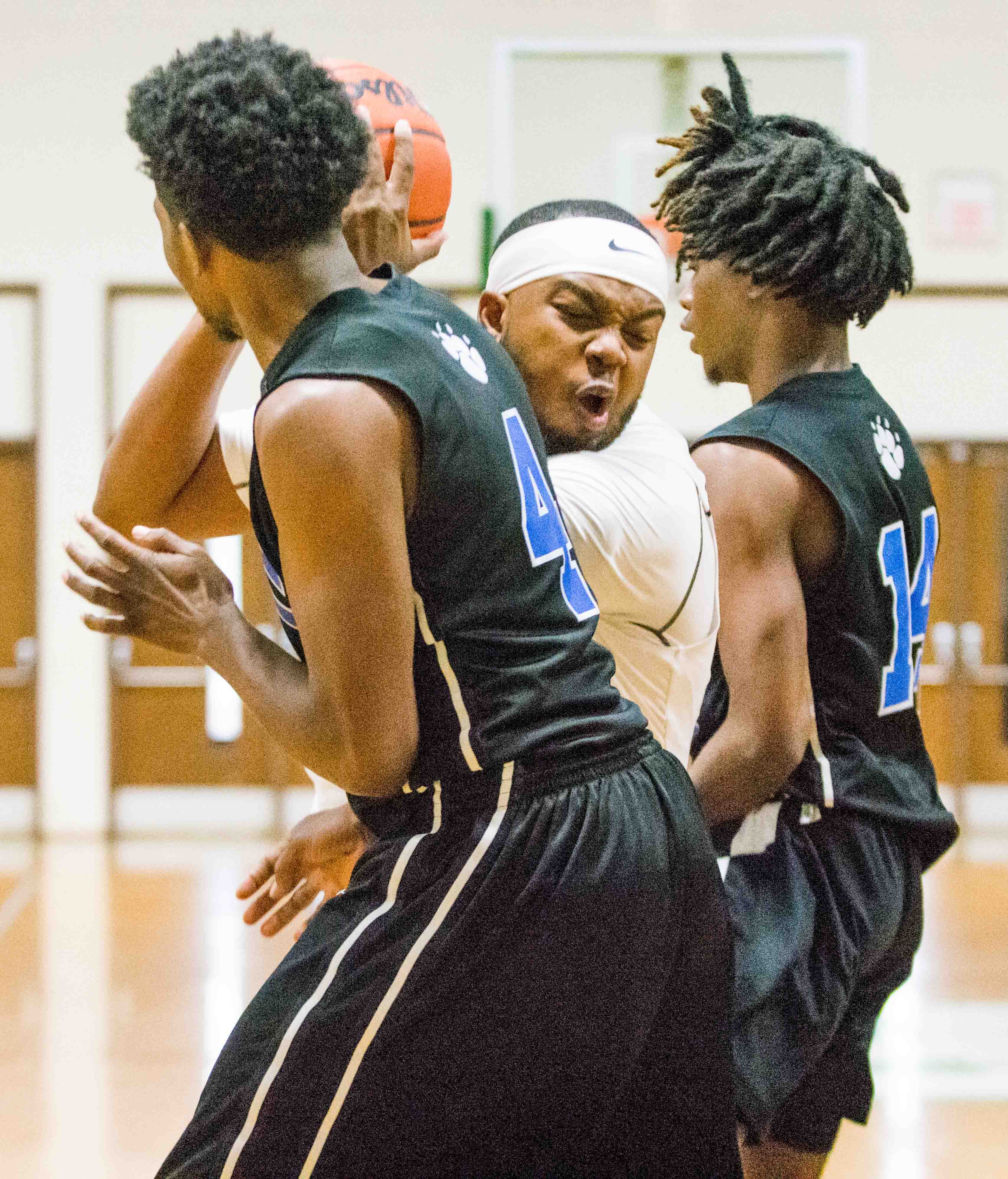 SVCC's Tae Holmes looks for an opening on this drive between two Bryant & Stratton MIT defenders in action from the Panthers' 90-63 win on Sunday afternoon.
(Dennis Smith)