SVCC Splits a Pair
The Southside Virginia Community College men's basketball team returned from the holiday break and split a pair of games over the weekend. SVCC (2-2) topped Stillwater Christian Academy on Saturday with an 84-72 victory before falling 89-73 to visiting TPLS on Sunday afternoon. The local team jumped out to an 8-5 lead at the 15:22 mark of the opening half on Saturday on a dunk by DeAndre Miles and took a 12-7 lead on a bucket by Glenn Hawkins at the 11:53 mark. Two straight buckets by Aaron Logan gave SVCC a 26-18 lead at the 7:36 mark. Buckets by Isiah Thompson and Miles over the final two minutes gave SVCC a 39-32 lead at the halftime break. SVCC got a trey and a runner in the paint from Tae Holmes to open up a 50-36 lead at the 17:16 mark of the second half. A bucket by Thompson and a trey from Joseph Jiggetts gave SVCC a 59-48 lead at the 11:22 mark. Holmes scored eight straight points later in the second half to open up a 76-57 lead with 4:56 left to play and the local team cruised down the stretch. Miles had a big game with 27 points and 12 rebounds for SVCC while Holmes scored 17 points and added two steals and Thompson finished with 14 points, four rebounds and four assists. Logan also had a double-double with 10 points and 11 rebounds. Marquise Petty led the Panthers with 16 rebounds in the contest.                                                                              
SVCC…..39  45 – 84
SCA……32  40 – 72
SVCC – Hawkins 5, Holmes 17, Logan 10, Jiggetts 5, Petty 6, Miles 27, Thompson 14.
TPLS, 89-73
The length of visiting TPLS bothered SVCC on Sunday as the visitors jumped out to an early 16-10 lead. Back-to-back bucket by Holmes and Logan cut the lead to 18-16 at the 12:15 mark of the first half. Buckets by Miles and Holmes cut the TPLS lead to 38-30 at the 4:35 mark and the visitors took a 46-36 lead to the halftime break. A steal and layup by Holmes and a bucket by Petty cut the TPLS lead to 46-42 at the 18:35 mark of the second half but the visitors answered with a 9-0 before Miles completed a three-point play to trim the lead to 55-45. Two free-throws by Logan cut the TPLS lead to 61-55 at the 12:35 mark of the second quarter but that was as close as the local team would get in the second half. Holmes led SVCC with 24 points and three rebounds while Aaron Logan tallied 15 points and 11 rebounds and Miles added 14 points and 12 rebounds. Cliff Robinson, a 6-9 wing, led TPLS with 20 points while CJ Goode added 18.
SVCC………36  37 - 73
TPLS……….46  43 - 89
SVCC – Holmes 24, Logan 15, Jiggetts 3, Petty 4, Miles 14, Thompson 6, Walker 2, Atwater 5.
SVCC's DeAndre Miles scores on a putback in action from the local team's 84-72 victory over Stillwater Christian Academy on Saturday afternoon.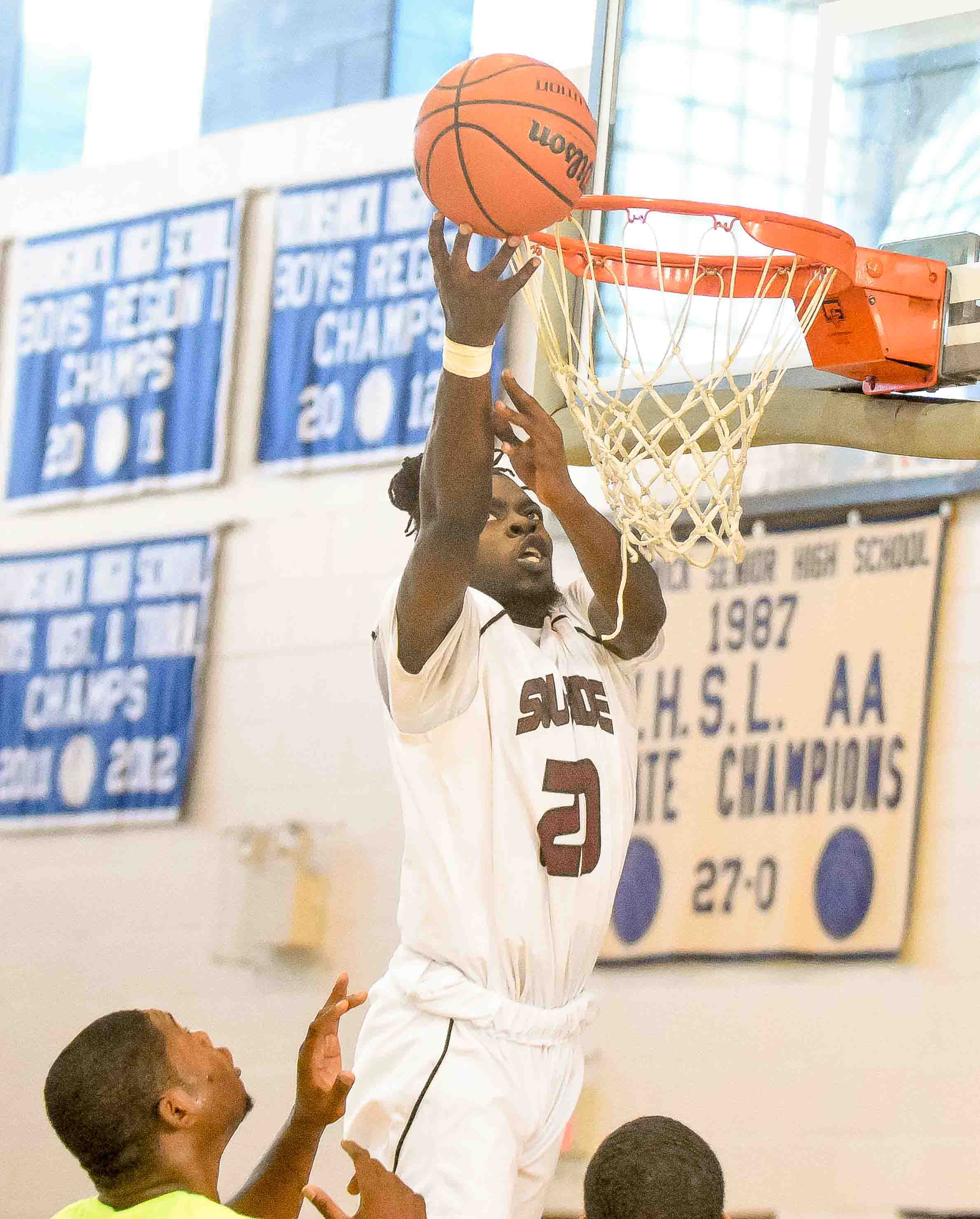 SVCC's Tae Holmes (3) scored 24 points but the local team fell 89-73 on Sunday to visiting TPLS.