SVCC Splits a Pair
The Southside Virginia Community College men's basketball team split a pair of games on the road over the weekend.
SVCC (2-1) topped Bryant & Stratton MIT 80-69 on Saturday in Chesapeake but fell 75-65 to the Virginia Union University JV team on Sunday in Richmond.
The Panthers jumped out to a 37-33 halftime lead at Bryant & Stratton and then outscored the home team 43-39 in the second half to seal the win. Zykeem Fields led SVCC with 27 points in the victory while Traivon Callis scored 15, Nile Atwater totaled 12 and Tae Holmes added 11.
SVCC fell behind 39-29 in the first half in Richmond on Sunday and the Virginia Union JV's maintained the pace in the second half to earn the victory. Holmes led SVCC with 11 points while Atwater added 10.
SVCC will enjoy the Thanksgiving break and return to action against VUL on December 3.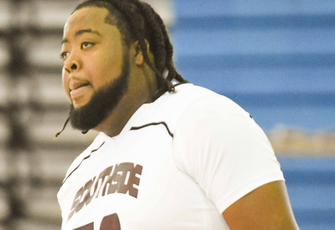 David Grant and the SVCC men's basketball team split a pair of road games over the weekend. (SVCC photo)